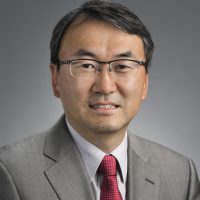 (The James C. Smith CIAC Endowed Professor | Construction Science | Texas A&M University | Associate Research Engineer | Texas A&M Transportation Institute (TTI), USA)
Dr. David Jeong is the James C. Smith CIAS Endowed professor in Construction Science at Texas A&M University. Throughout his faculty career, Dr.Jeong has established a solid research and education program that is focused on data driven decision making processes for project planning, design, construction and asset management. He has demonstrated national distinction in scholarship in his research area. Dr. Jeong has excelled in conducting high impact research by securing more than 40 research grants with a cumulative funding amount of $9 M from international and national agencies through highly competitive peer-review processes including National Science Foundation (NSF), National Cooperative Highway Research Program (NCHRP), Federal Highway Administration (FHWA), Construction Industry Institute (CII), to name a few.
Dr. Jeong believes that research in academic institutions should be geared toward more risk-taking ideas and innovation which innately bear higher intellectual merit. His research with this philosophy contributed to making fundamental advancements with new theories and methods in digital data workflows, construction cost inflation rate calculation methodologies, cost estimating competencies, alternate scheduling methods, risk analysis of international construction markets, infrastructure asset deterioration mechanism, and allocating security resources to infrastructure assets. He has published more than 100 technical journal and conference papers in his field and his significant research contributions to the academia and the construction industry through creating new knowledge were recognized with some of highly competitive national level research awards including the best scholarly paper award from the American Society of Civil Engineers (ASCE) – Journal of Construction and Engineering (JCEM) in 2016, the Construction Industry Institute (CII) outstanding researcher of the year award in 2010, and the Institute of Industrial Engineers (IIE)'s Transaction Award – Best Application Paper in Operations Engineering in 2008.
In addition to his research excellence recognized by those awards, Dr. Jeong's research has contributed to creating new theories, methods and tools that can be effectively used to improve the current industry practices. Dr. Jeong expanded the capabilities of linear scheduling to account for variance in production rates when and where the variance occurs and to enhance the visual capabilities of linear scheduling.  His research team developed a fundamentally different algorithm to calculate highway construction cost indexes more accurately and thus determine a truer cost change over time. Dr. Jeong's expertise in cost estimating and data analytics has also contributed to developing new data driven parametric cost estimating methods for enhanced cost certainty during the early stage of project development. In the area of infrastructure asset management, Dr. Jeong persistently focused on modeling aging or deterioration processes of different types of infrastructure assets using available historical data. The impact of Dr. Jeong's research on digital project delivery for the construction industry and his vision was recognized by Engineering News Records (ENR), which is one of the most widely circulated commercial magazines in the construction industry. Dr. Jeong's view on research and education in this field was interviewed by the editor-at-large, Ms. Debra Rubin and this interview was featured on the cover story of the issue in February, 2017. Dr.Jeong has six years of industry experience before his academic career.