(Aristotle University of Thessaloniki, Greece)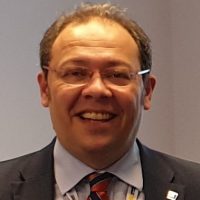 Dr. Yiannis Xenidis received at 2006 his PhD from the department of Civil Engineering in the Aristotle University of Thessaloniki (AUTH) wherefrom he had, previously, graduated at 1998.He has taught at the department of Spatial Planning and Development in AUTH during 2005 – 2008, while, currently, he is a faculty member (Associate Professor) at the department of Civil Engineering in AUTH and he is a tutor/advisor at the school of Science and Technology in the Hellenic Open University. He has authored several peer reviewed papers in scientific journals and conferences, and he has contributed, upon invitation, with book chapters to several publications. He has participated as member of the organizing and scientific committees and session chair at several scientific conferences. He is, also, a reviewer at several scientific journals and conferences and an evaluator of research proposals, while he is participating as an expert, upon invitation, in several research studies worldwide. He is a member of the European Council for Computing in Construction (EC3), the Task Group 1.08 – Design Requirements for Infrastructure Resilience, International Association for Bridge and Structural Engineering (IABSE), European Association On Quality Control of Bridges and Structures (EuroStruct), Project Management Institute (PMI), the Society of Risk Analysis (SRA), and the International Association for Life-Cycle Civil Engineering (iaLcce). He has a professional experience as a constructor of public works and private projects and as a consultant of civil engineering projects for three and 16 years, respectively.
His current research interests and teaching activities include: Implementation of Building Information Modeling in Construction and Maintenance of Infrastructure, Resilience of Infrastructure Systems, Risk Analysis and Decision-Making Theory, Infrastructure Investments and Development, Cost and Schedule Management in Civil Engineering Works, Project Management, and Construction Management.